Interdisciplinary team of BI researchers publish new article on 3-D Jet Writing Technique
Interdisciplinary team of BI researchers publish new article on 3-D Jet Writing Technique
---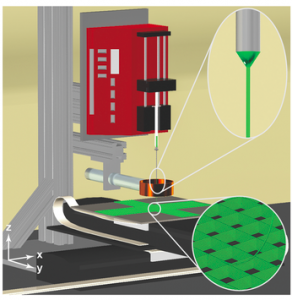 A team of interdisciplinary researchers led by BI Director Joerg Lahann publishes their findings on a 3D jet writing technique that enables high-precision and high-resolution manufacturing of 3D structures. These scaffolds further supported the 3D expansion and differentiation of human mesenchymal stem cells in vitro and were also tested in vivo.  3D jet-written structures could find a wide range of biomedical applications.
This work was done in collaboration with BI researchers from Gary Luker and Paul Krebsbach's groups.
The article entitled "3D Jet Writing: Functional Microtissues Based on Tessellated Scaffold Architectures" appears in Advanced Materials. Read More.
The Biointerfaces Institute brings extensive experience to the collaborations that lead to scientific breakthroughs, successful translation, and advanced learning.
Work With Us