The Biointerfaces Institute faculty bring extensive experience to the collaborations that lead to scientific breakthroughs, successful translation, and advanced learning.
Interdisciplinary effort is our way of life, and our investigators possess the essential ability to communicate productively across broad differences in clinical and technological expertise.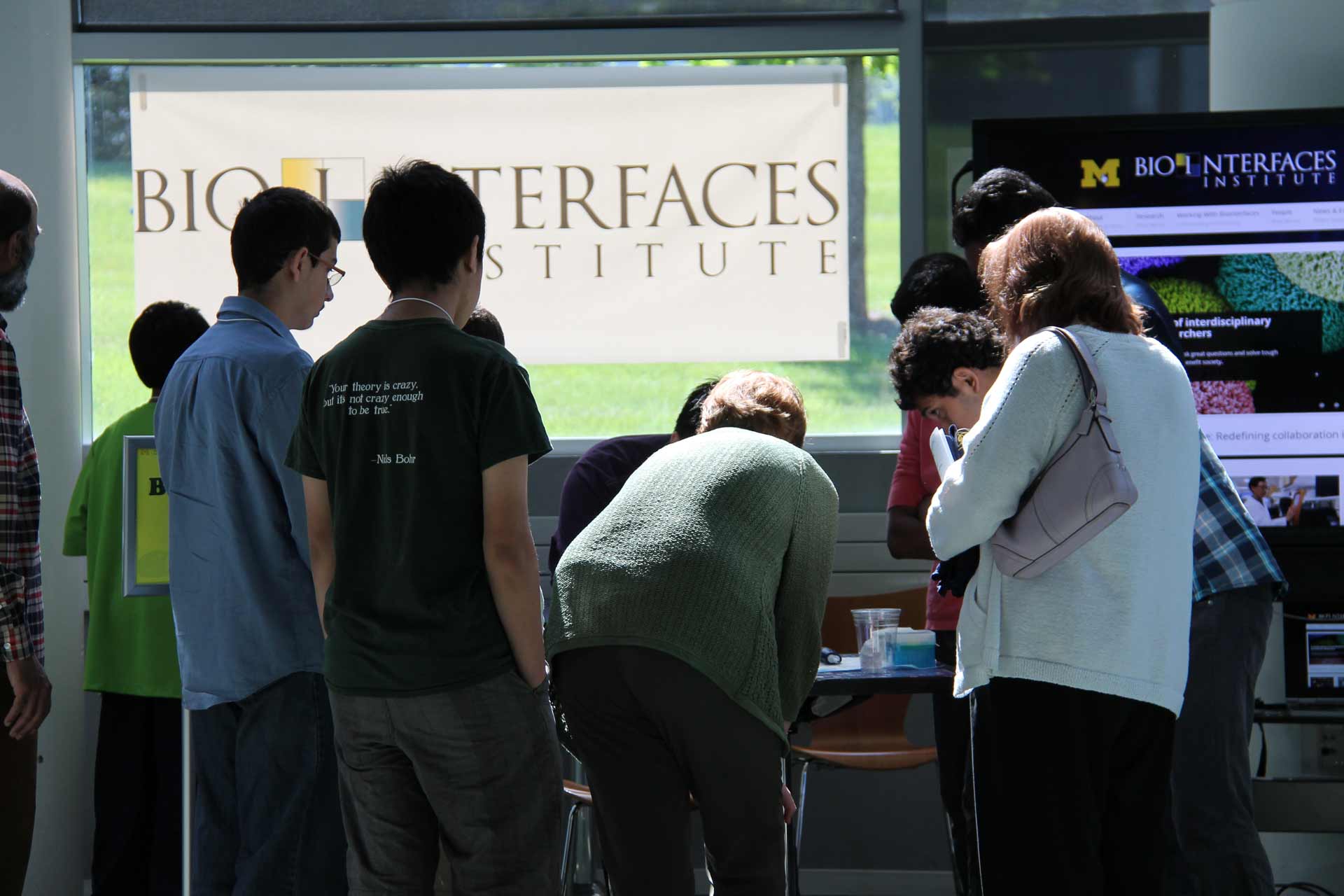 Biointerfaces Institute Research Group (BIRG)
BI's collaborative spirit extends beyond our faculty. We are also shaping the next generation of scientists by generating constant opportunities for silo-breaking research among labs co-located at BI.
The Biointerfaces Institute Research Group (BIRG) is an organization of graduate and postdoctoral researchers from multiple BI research groups and aims to support a culture of collaboration amongst non-faculty researchers through seminars, educational workshops and social events.
BIRG hosts many events throughout the year that enable researchers to interact and enhance the flow of knowledge across disciplines, labs, and individuals. These increased interactions have already led to more discussions on interdisciplinary problems and created a strong sense of community within BI. If you are interested in being involved in BIRG or would like more information, please contact us.
Contact Us
Whether you're bridging to your first academic appointment or your first industry position, working with the BI affords you the opportunity to carry out high-impact engineering and life sciences research with world leaders and state-of- the-art instrumentation and fabrication facilities. Our collaborative network extends globally across universities and companies large and small.
Postdoctoral
If you are interested in postdoctoral opportunities at The Biointerfaces Institute, please submit your CV via email to biointerfaces.info@umich.edu
Undergraduate and Graduate Students
For students beginning their academic career at Michigan, or for students ready to pursue their graduate training, the educational and immersive multidisciplinary research experience within the Biointerfaces Institute is unparalleled.
Faculty
From within or from beyond the University of Michigan, we want to look for opportunities to help solve novel and important problems in the life and physical sciences. We have extensive experience in working across traditional academic boundaries in pursuit of better approaches to all aspects of human and animal well-being, crop development, and food service safety.
Visiting Scholars
Our program has a long history of hosting visitors from the United States and globally, whether for a day, a week, a semester, or a year. Contact us to learn about how to arrange a visit.
Industry
The Biointerfaces Institute faculty understand the difference between academic and industrial applications and needs. Many of our faculty have launched companies themselves, and thus bring first-hand experience of the focus and detail necessary for translating new technologies. Whether your business is a start-up in need of partnership in moving your products forward or an established company looking for new approaches to core challenges, the Biointerfaces Institute wants to talk to you about opportunities for working together.