BIBC Hybrid Seminar Series: Dr. Wajd Al-Holou & Dr. Todd Hollon
---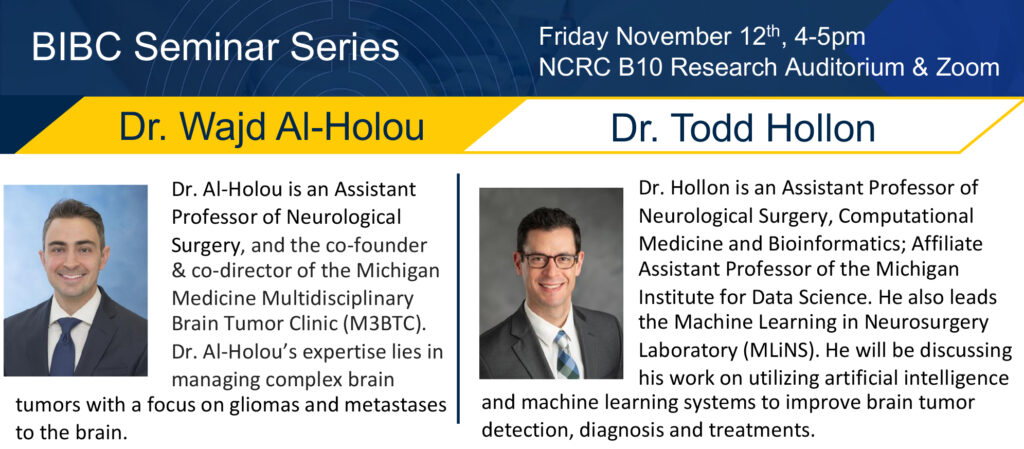 Please join us on Friday, November 12th @4-5pm to hear presentations from Dr. Wajd Al-Holou, MD and Dr. Todd Hollon, MD. They will be discussing their work around brain tumor diagnostics, surgical interventions and treatments.
The BIBC seminars will showcase the multidisciplinary research of faculty studying brain cancer biology and novel technologies that can be used for brain cancer diagnosis and treatment. The seminars will be held on campus with a hybrid option. If you have not already received building access for NCRC, enter through the Building10 front entrance to be let inside.
Anyone attending the seminar in person must complete the ResponsiBLUE questionnaire and sign-in when entering the seminar room. At this time, masks are required for all individuals regardless of vaccination status. We will update this event if University policy changes with regards to in-person events.
Zoom: https://umich.zoom.us/j/96013954399 Passcode: 076129
Add to Calendar
The Biointerfaces Institute brings extensive experience to the collaborations that lead to scientific breakthroughs, successful translation, and advanced learning.
Work With Us