Two BI research fellows awarded MICHR Award
Two BI research fellows awarded MICHR Award
---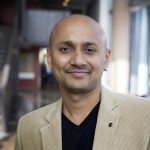 Patricia (Patti) Schnepp, a research fellow in Evan Keller's group and Vishwanath (Vish) Sankarasubramanian, research fellow in Scott Lempka's group, both received the Postdoctoral Translational Scholars Program (PTSP) Awards by MICHR.
The PTSP program is designed to prepare scholars for independent careers in translational research.  The award include educational activities, mentorship and financial support for research and career building activities.  To read more about the PTSP program, please visit the MICHR website.
Congratulations Patti and Vish!
The Biointerfaces Institute brings extensive experience to the collaborations that lead to scientific breakthroughs, successful translation, and advanced learning.
Work With Us